Greetings, internet!
It is I, Charlie Ze Newbie with a new kind of blog post.
A lot of work and love goes into the games we make here at the studio. For our upcoming game, VERSUS, we've gone in a delightful cartoon style that is absolutely adorable. This week I sit down with Gus, one of our artists, and talk to him about his background and his thoughts about working here.
How did you get started in art?
I watched a lot of cartoons as a kid. I used to come home from school and lay down in front of my tv and watch cartoons. I used to draw fan art of the cartoons I was watching as I was watching it [laughs]. I lost it (drawing passion) in high school, although I got it back in college because I wanted to make a career out of it. In high school it didn't seem like a possibility. Afterwards, I went to college and took art fundamentals from there.

What are your degrees?
I have two diplomas. Diplomas? Certificates? I don't know. I have two of them since I graduated from Sheridan with the Visual Creative Arts program and I also graduated from Mohawk College with one in graphic design/animation. I thought about doing a game design program that focused on art and design programming at one point, but art still feels like an 'Enterprising' part of the game design field. In video game art, it always feels like we're reaching new… Well not "Heights", but like, "Heights", you know? [laughs].
Influences?
I shouldn't call any of them out. It's funny because I've met a lot of them. I'm actually friends with some of them now. They're people I aspire to, whose art I found online. But growing up, I found my influences in cartoons a lot of the time. Megaman, Yu-Gi-Oh! and Medabots. Those were great.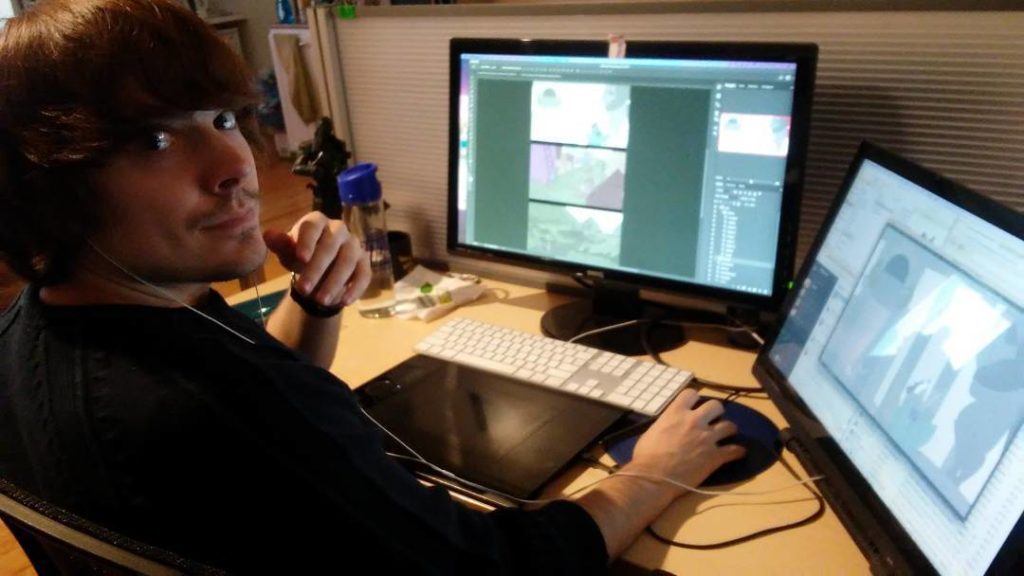 Speaking of which, what are your Favourite games?
My favourite game is Final Fantasy Tactics Advanced! It inspired my art style a lot. That as well as Megaman battle network. My dad took me to Germany once and I never looked up from my Gameboy (due to Megaman Battle Network). Those and of course the classics, like Ocarina of Time and Majoras Mask. I have really fond memories of them all.

What are you playing right now?
Breath of the wild. Everyone's playing that right now. Everyone who has a Nintendo Switch, anyways. I'm also playing some PC games. I like Blizzard games, like Overwatch, Heroes of the Storm, and Hearthstone. Those kinds of games.

What is the best part of working at ZeMind Games?
This is a pretty good environment. We have a dog, so what else is there? I have a computer, [laughs] The people are pretty cool. Various types of people. I'm trying to un-dig this hole that I've dug for myself (laughs), I don't think you should include that there's beer in the fridge. That's a secret perk.
Thanks for chatting!
Thank YOU!
Hope this let you all get to know the sort of people who work here. If you've got the chance, we'd love it if you followed us on social media! Stay tuned for more of the people who make ZeMind Studios such a fun place to work.