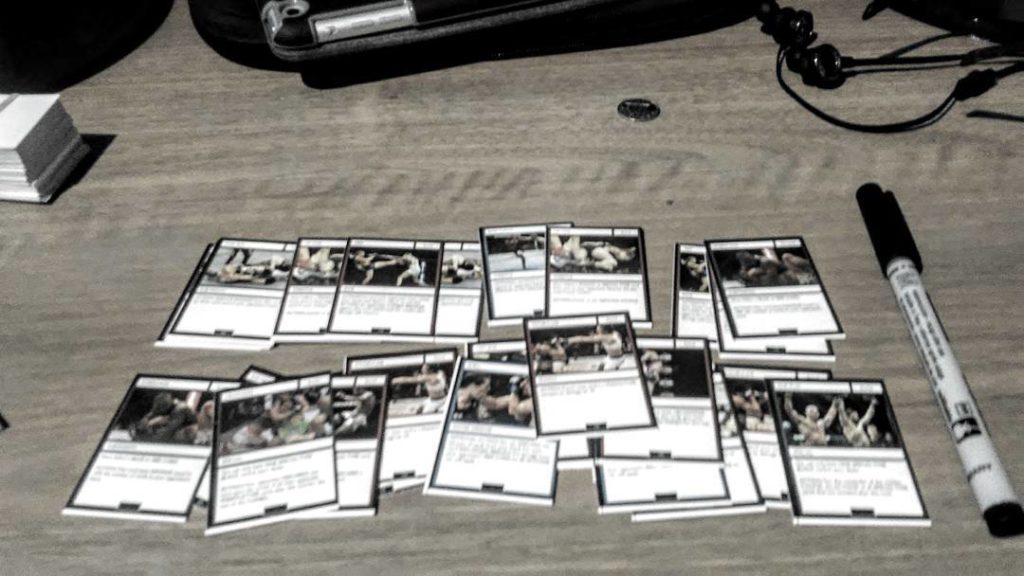 What's that? You're a local Toronto artist interested in card games? Well step right up!
We're on the hunt for a few extra hands for our upcoming card game. Just so anyone interested is aware, it's based on the growing sport of Mixed Martial Arts (MMA) that takes place in a cage (think the 'UFC'). Players will build a deck of punches, kicks, wrestling and submission techniques to help reduce their opponent's health to zero in as fast a manner as possible. Many card game lovers who are/were familiar of games such as the Pokemon Trading Card Game, Yu-Gi-Oh! As well as Magic: The Gathering should find some of the elements in our game familiar.
If you're a Toronto artist who just so happens to to enjoy card games, MMA or both, drop us a line! Here's a soft list (by no means set in stone) of what we're looking for.
In no particular order, here's what we'd like to see:
We've only just begun our hunt for local talent (we love supporting our homegrown pals!), but it's very important to us that the art on our cards be action oriented. The style has yet to be nailed down in its finer details, but we're imagining something with heavy inks and a dynamic perspective.
If possible we're going for something along the lines of what 'The Big 2' comic publishers (Marvel or DC) would publish in one of their larger titles. Exaggerated hands and feet as well as combat in motion are all a huge plus here, so don't be afraid to showcase your style when it comes to the 'Art' part of mixed-martial arts.
Preferably, we'd like to include two characters per card locked in mid-strike or in the heat of combat. Art that highlight all sorts of punches, kicks, knees will all go to the top of the stack. Combatants can be on the ground, in the air or standing as long as the violence/exaggeration levels don't reach the 'Mortal Kombat' level of gore. Think less in the realms of 'Fatalities' and more in line with the 'EA Sports: UFC' series.
Don't worry so much on background as much as getting the spirit of combat just right. We also LOVE dramatic angles, so if you've got a few pieces lying around that fit the bill, we'd love to see them (Via link! No files please!).
When it comes to colours, we're hoping to see a lot of de-saturated pieces as well as heavier, comic styled inks. Inspiration wise, there are plenty of manga titles up for grabs that would help, but try and take your inspiration from fighting video games such as the Street Fighter franchise.
Don't worry if your art doesn't fit the requirements list perfectly, we're still working things out so details may change. Send us what you got!
You can email a link to your portfolio, and some notes about yourself to me, Charlie Ze Intern, here charlie(DOT)barangan(AT)zemind.ca or reach out to us on social media accounts listed below.
We can't wait to show you what we're coming out with next!