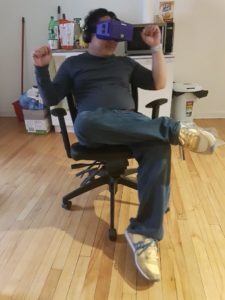 Hello ZeMind blog fans!
It is I, Charlie Ze Newbie updating you on the latest in our studio. I know, I know. You've been dying to know when the next official game is coming out. We hear you, and we know it's been a while since you've heard any news on VERSUS, our lovely RTS/Tower Defense game.
Good news! VERSUS hasn't gone anywhere, It's still very much in development. Our art department just needed a little more time in the oven to bake up our tray of assets.
Very soon we'll have some extra screengrabs for you to take a peek at. Nothing huge, just a few menus, but it will give you a taste of the aesthetics we're going for.
In other ZeMind game news, we've gone ahead and jumped on the VR bandwagon. Join us! There's plenty of room. Earlier last week we picked up the well designed and incredibly comfortable MERGE VR headset. Light, made of a memory foam and featuring some soft straps around the head, we can't recommend this headset strongly enough for game developers looking to make waves in the land of mobile VR. Heck, it even features an adaptable flap for all your AR (augmented reality) games.
We haven't quite  pushed it to the limits yet, and as of late we've mostly just run stereoscopic 360 video, but all in all it seems like a pretty cool experience. Catching music videos where you're part of the set as well as taking VR trips in flight seems like a great way to experience the medium.
That about wraps it up for us this week, follow us on social media for more updates!
Charlie Ze Newbie
We promise you won't be disappointed:
Follow @ZeMindGames