A long time ago, in a galaxy far, far away…
*Trumpet blares*
Project 'Versus' is currently in development and slated for a release sometime this year. Although no hard release dates are set, I can give you a few details as to what our next release is going to be like:
For those of you wondering, the story of Versus will be set in several battles consisting of teams (more like small armies?) fighting against each other in a real-time strategy styled melee combat.
This is what happens when a torrid affair between Plants Vs Zombies and Age of Empires results in a lovechild raised by a cartoon trio of fairies, a ringleader, and of course, a junkyard enthusiast.
In between campaigns you'll have the opportunity to read through some of the incredible comic work put forward by our art team here at the studio, a sketch sample of which you can find here: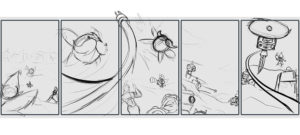 Not only that, but we'll also have some humorous, RPG influenced dialogue used for some extra motivation. Each of your units will have a unique ability (details to come) that can sway the flow of battle and it'll be up to you to to see how to use them.
While I can't leak too much more on the project right now (the last intern who did was never found– I think he was fed to the office dachshund, Fletcher) you can rest assured that there will be more news to come within the next few weeks!
That's all for now, I think I hear the dog coming.
-Charlie Ze Newbie
---
You can interact with Charlie, as well as the studio itself via social media accounts here: